Entrepreneurship Tips
Posted by Robert Norton on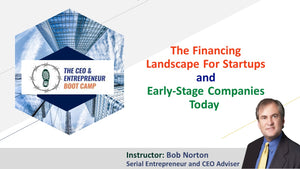 This article is an introduction to a broad range of financing across the stages from seed to Series B. The financing landscape today has change radically with many more options. Some financing is easier to get, but generally equity financing is harder to get.  Everything you learned in the last ten years may now be obsolete. We are back to looking like the early 1990s again as everyone has "moved up the food chain" one to two levels. True Series A financings with money designed to develop the product are rare today and most first institutional investments are in companies...
Posted by Robert Norton on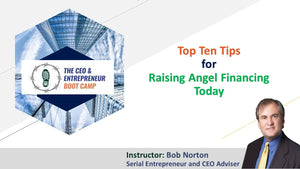 Top Ten Tips for Raising Angel Financing Today By Bob Norton, Serial Entrepreneur and CEO Coach Angel Investors ("Angels") have become a much more important source of capital than ever before. Statistics show they have invested more than VCs in some past years and almost always invest more in early-stage deals. With VCs treating early-stage deals like they have the plague, young companies had better understand and use angel financing effectively. Note that VCs will tell you they do seed and early rounds but 90% really do not. They define "early" as have traction mostly, not funding product, unless there is...
---