The First 100 Days of a Startup to Almost Guarantee Success - 8 Courses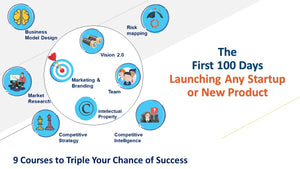 Do you want to build a multi-million-dollar business that will create wealth, generate jobs and potentially even change the world for the better? 
Learn how to almost guarantee that a business or product launch will be successful by doing the right preparation first.  Over 80% of startups fail!  Most because they skip these important steps. 
This bundle of courses contains everything you need to design a unique, entrepreneurial business that can dominate its market.  Included are courses on the following topics:
1. Market research the right way - The Eleven Steps needed
2. Competitive intelligence - Understanding the competition to position differently 
3. Developing a vision and the 11 required elements for success
4. Business model design because any product or service can't have hundreds of permutations of this
5. Positioning & Competitive Strategy - Taking elements of the father of strategy and developing differentiation
6. Recruiting your founding team and designing an organizational structure in the early days
7. Branding work that every company needs right from the beginning so that every investment in marketing has good ROI
8. Risk management and mapping tool to understand and manage the downside be prepared to pivot
This program with eight courses was created by our founder, Bob Norton, who has raised over $40 million in early-stage capital from many different sources and categories. And has also returned over a billion dollars in profits to his investors during his 30-year career as a serial entrepreneur. Like all of our courses and material from The CEO and Entrepreneur Boot Camp (www.CEOBootCamp.us), it is very practical and "how to" steps and processes from someone who has been there and done that. It is not theoretical or academic but from decades of experience and real-world wisdom gained in the trenches.
Also included is The CEO Tool Kit with all the tools discussed so you can download them and use them forever. And you get access to all courses for six months. So, you can take it at any speed you like. 
Out of the 85% of startups that fail it is our belief that 80% of those failures come from not doing the right prework to design the company and research the space properly before moving forward with product development. Therefore, a company should be able to triple its chances of success by just using these tools and having the discipline to figure everything out its business model before beginning product or service development.
Don't miss this opportunity to launch your venture with proper research, design and planning that will lead to faster growth and higher profit.  And position you to raise outside capital too. 
If you decide to upgrade to the full CEO & Entrepreneur Boot Camp 50% of past purchases will be applied on request. 
Any questions call (619) SCALE06 from 9am to 6pm CT. 
About Your Instructor, Bob Norton, Serial Entrepreneur and Top Expert in Starting and Growing Companies
As a CEO since 1989 Mr.Norton has grown two startups to over $100M in sales within five years and returned over $1 billion in profits to his investors
CEO Coach and Adviser since 2002. Independent Director. Specialist in scaling.
Grew two startups to $100M and $156M in sales in 5 years and 3 years
Founded six companies with four exits totaling over $1 billion in profits to investors. Two others still growing.
Author of four books including: The Startup Manual & Leadership, co-written with Warren Bennis, "The Father of Leadership"
Over 125 published articles and 360+ training videos
Creator of The CEO & Entrepreneur Boot Camps that have run since 2004 and graduated thousands of CEOs and executives from over 40 countries
Creator of AirTight Management, the world's first modular Management Operating System (MOS) to prepare companies to scale smoothly