Product Development, Innovation, Market Entry, Team Building - Launching a Company - 7 Courses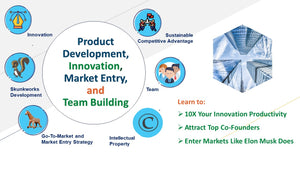 Drive your business through competitive advantage using the product development strategies along with innovation and best team members
This bundle of courses contains about the second third of the CEO and entrepreneur bootcamp and everything you need to design a business for success.
This seven course program Includes:
1. Building Your Management Team - The Skill Set Matrix(TM) - Learn to attract the best team
2. Innovation and Disruption to Create Sustainable Competitive Advantage - Design your business to be way ahead in its industry
3. Intellectual Property - Traps and Tips - Protecting your Business via SCA - Patents, trademarks, copyrights and trade secrets are critical to protect legally
4. Product and Service Development at Light Speed - Getting 10X Productivity & Innovation for Less Money Using Proven Techniques
5. Market Entry Strategy Versus Go To Market (GTM) - You Need Both
6. Branding - Leveraging 10 million Years of Evolution & Emotion and How Brains are Wired
7. Designing Your Brand - The Full Branding Process Roadmap and Examples
This course was created by our founder, Bob Norton, who has raised over $40 million in early-stage capital from many different sources and categories. And has also returned over a billion dollars in profits to his investors during his 30-year career as a serial entrepreneur. Like all of our courses and material from The CEO and Entrepreneur Boot Camp (www.CEOBootCamp.us), it is very practical and how to from someone who has been there and done that. It is not theoretical or academic but from decades of experience and real-world wisdom gained in the trenches.
Don't miss this opportunity to launch your venture with proper guidelines that will lead to generate faster growth and higher profit.
Questions: Call (619) SCALE06 between 9am and 6pm CT or email info@AirTIghtMgt.com 
About Your Instructor, Bob Norton, Serial Entrepreneur and Top Expert in Starting and Growing Companies
As a CEO since 1989 Mr.Norton has grown two startups to over $100M in sales within five years and returned over $1 billion in profits to his investors
CEO Coach and Adviser since 2002. Independent Director. Specialist in scaling.
Grew two startups to $100M and $156M in sales in 5 years and 3 years
Founded six companies with four exits totaling over $1 billion in profits to investors. Two others still growing.
Author of four books including: The Startup Manual & Leadership, co-written with Warren Bennis, "The Father of Leadership"
Over 125 published articles and 360+ training videos
Creator of The CEO & Entrepreneur Boot Camps that have run since 2004 and graduated thousands of CEOs and executives from over 40 countries
Creator of AirTight Management, the world's first modular Management Operating System (MOS) to prepare companies to scale smoothly