How to Raise Millions For Any Company - Online Video Course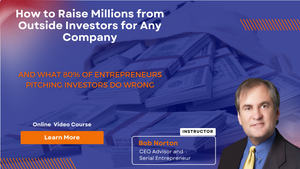 What you get:  
Learn the strategies that top entrepreneurs have used to raise billions in capital. 90% seeking funds will not get outside investors. Understanding why they failed will ensure you are not wasting your time.

Learn to target the best investors for your situation and what they need to see and hear to get excited about your deal in your pitch.

Learn what team quality level you need at each level of investment targeted - An objective test.

Learn how to find and approach the right investors. There are many false beliefs about this that can prevent you from being successful.

See examples of the best pitch deck slides that will make you stand out from the rest.

Learn how to get the highest valuation possible, so the Founders do not end up owning less than 20% when you exit. This can translate into millions more for your founding team. 

Toolkit for raising capital including documents for taking money from angels, other articles on raising capital, Bob's eBook The Top8 Reasons Companies Fail to Raise Funds, and 10 other valuable tools.
 Testimonials on our programs:
About Your Instructor, Bob Norton, Serial Entrepreneur and Top Expert in Starting and Growing Companies
As a CEO since 1989 Mr.Norton has grown two startups to over $100M in sales within five years and returned over $1 billion in profits to his investors
CEO Coach and Adviser since 2002. Independent Director. Specialist in scaling.
Grew two startups to $100M and $156M in sales in 5 years and 3 years
Founded six companies with four exits totaling over $1 billion in profits to investors. Two others still growing.
Author of four books including: The Startup Manual & Leadership, co-written with Warren Bennis, "The Father of Leadership"
Over 125 published articles and 360+ training videos
Creator of The CEO & Entrepreneur Boot Camps that have run since 2004 and graduated thousands of CEOs and executives from over 40 countries
Creator of AirTight Management, the world's first modular Management Operating System (MOS) to prepare companies to scale smoothly