Hiring Your Team: Organizational Planning, Psychology, Personality Testing - 3 Courses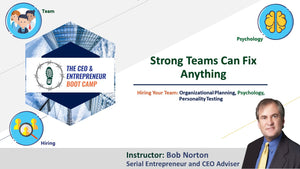 Make sure one bad hire doesn't kill your company!
Creating a founding team is both the riskiest and most important decisions any entrepreneur will make. One bad choice early on can be a large percentage of the company and its culture and can even kill a business if a key person is not qualified to make strategic decisions. It is also critical that you eliminate dangerous personality types and fit the company culture you must design and nurture for the marketplace you are addressing.
This collection of courses will help any company to plan, organize and optimize its chances of people selection. It covers organisational design, psychology and testing personality at the time of hiring team members. You will get our key proprietary tool called The Skill Set Matrix™ which will help you objectively determine who is qualified for what position at each level. Most hiring decisions are clouded by personal feelings and insufficient analysis of the skill set needed for success is done. Often times there is reliance on previous titles without validation that previous experience is relevant to the new company. Many times people are hired from big companies and can become fish out of water in smaller companies.
It is a portion of The CEO & Entrepreneur Boot Camp that is focused on strategy, positioning, intellectual property, business model design, innovation and risk reduction. It will help create barriers to entry that can be maintained long-term and can double a company's value or even 10X it as shown in examples of the higher price to earnings multiples companies that implement these strategies will get in public markets.
These three courses will help any company turn into a market leader when implemented properly:
1. Eight Psychology Principles that Can Kill Companies that CEOs Must Understand
2. Building Your Management Team - The Skill Set Matrix™
3. Personality Testing And Interviewing to Improve Match, Tenure and Culture
Any experienced investor will always the mantra "team, team, team". This is because a good team can fix any other problem. But a bad team can ride problems into bankruptcy.
One attendee at The CEO boot camp said the Skill Set Matrix™ would have saved him $40 million. Because he hired an unqualified person for a C level position Who would have been eliminated from the hiring process early on if he had used this tool. Don't let one bad decision destroy your company. Most people not even think about this criterion before hiring.  Even professional recruiters often ignore it to fill a position.
This course was created by our founder, Bob Norton, who has raised over $40 million in early-stage capital from many different sources and categories. And has also returned over a billion dollars in profits to his investors during his 30-year career as a serial entrepreneur. Like all of our courses and material from The CEO and Entrepreneur Boot Camp (www.CEOBootCamp.us), it is very practical and how to from someone who has been there and done that. It is not theoretical or academic but from decades of experience and real-world wisdom gained in the trenches.
Don't miss this opportunity to reach the highest peak of your business with the skilled team mates to generate faster growth and higher profit.
About Your Instructor, Bob Norton, Serial Entrepreneur and Top Expert in Starting and Growing Companies
As a CEO since 1989 Mr.Norton has grown two startups to over $100M in sales within five years and returned over $1 billion in profits to his investors
CEO Coach and Adviser since 2002. Independent Director. Specialist in scaling.
Grew two startups to $100M and $156M in sales in 5 years and 3 years
Founded six companies with four exits totaling over $1 billion in profits to investors. Two others still growing.
Author of four books including: The Startup Manual & Leadership, co-written with Warren Bennis, "The Father of Leadership"
Over 125 published articles and 360+ training videos
Creator of The CEO & Entrepreneur Boot Camps that have run since 2004 and graduated thousands of CEOs and executives from over 40 countries
Creator of AirTight Management, the world's first modular Management Operating System (MOS) to prepare companies to scale smoothly