Eight Psychology Principles that Can Kill Companies - Who Not to Hire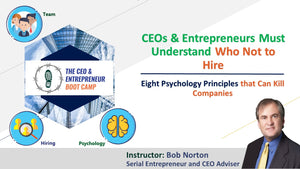 Learn the Eight Psychology Principles that Can Kill Companies - Or Help Them Grow When Well Understood
Human beings are complex and odd. There are many things we do that are just plain wrong, but a function of evolution and using shortcuts. We'll review eight powerful psychological principles. And how to prevent them from hurting your company and culture. 
About 5% of the population is either sociopath, psychopath or another serious mental disorder. These people are very dangerous to your organization. They hide in plain sight and can singlehandedly bring down a company - and not even know they are doing it. It is impossible for them to be team players and they can rot your company from the inside out. Destroying morale and other things for personal benefit. 
This Course Covers                     
Part A- Psychological Principles Entrepreneur Must Understand because They Can Kill Companies
Part B - Psychological Principles That Can Kill Companies
Part C - Psychological Principles: Metaphors and Models. Magic Number 7. Lifecycles and plans.
Part D - Cognitive Dissonance – The One that Gets Us Most Every day
Part E - Cognitive Dissonance – The One that Gets Us Most Every Day. Even Deadly to $1 Billon Corporations
Part F - Dangerous Personality Disorders Where Just One Person Can Take a Company Down
This course was created by our founder, Bob Norton, who has raised over $40 million in early-stage capital from many sources and categories. And has also returned over a billion dollars in profits to his investors during his 30-year career as a serial entrepreneur. Like all of our courses and material from The CEO and Entrepreneur Boot Camp (www.CEOBootCamp.us), it is very practical and how to from someone who has been there and done that. It is not theoretical or academic, but from decades of experience and real-world wisdom gained in the trenches.
You can take this course at any speed and will have access for 3-months. It will also provide you with many tools and checklists.
All of our courses come with a limited 100% money-back guarantee. And are jam packed with practical information that can literally make or save you millions of dollars in a few years, or even hundreds of millions over your career or building a significant company. 
50% of your purchases can be applied to The CEO & Entrepreneur Boot Camp if you wish to upgrade later.
About Your Instructor, Bob Norton, Serial Entrepreneur and Top Expert in Starting and Growing Companies
As a CEO since 1989 Mr.Norton has grown two startups to over $100M in sales within five years and returned over $1 billion in profits to his investors
CEO Coach and Adviser since 2002. Independent Director. Specialist in scaling.
Grew two startups to $100M and $156M in sales in 5 years and 3 years
Founded six companies with four exits totaling over $1 billion in profits to investors. Two others still growing.
Author of four books including: The Startup Manual & Leadership, co-written with Warren Bennis, "The Father of Leadership"
Over 125 published articles and 360+ training videos
Creator of The CEO & Entrepreneur Boot Camps that have run since 2004 and graduated thousands of CEOs and executives from over 40 countries
Creator of AirTight Management, the world's first modular Management Operating System (MOS) to prepare companies to scale smoothly