VIP - DO IT WITH YOU - Launch or Improve Any Business Package for Team of Three With 6 Private Consulting & Coaching Calls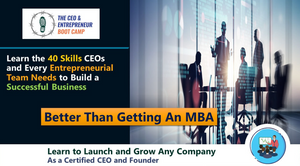 $11,99500

$11,995.00

Save $33,005
---
---
Want to build a seven, eight, or even nine-figure business like our founder has done multiple times? Want your team synchronized in language, strategy, management philosophy, and culture? Nothing can have as much impact as a quality team getting aligned and this program guarantees that. 
This is our premier VIP program that will turbocharge your team, culture, and management systems to leverage the best, proven practices from 75+ years of Management Science. You will work in private sessions to apply all the systems and tools that can accelerate your company's growth, profit, and revenue. And create a high-performance culture.  
Learn a dozen systems and many dozens of skills that every CEO and Entrepreneurial Team Needs to Build a Successful Company and Team. The CEO and Founder(s) cannot know it all, but they do have to hire and coach their team to succeed in every area of business. 
The CEO Boot Camp is the premier training to become a top entrepreneur for serious entrepreneurs that want to build companies to $5 million, $25 million, or $100 million or more in sales. It will teach you all the skills at a strategic level needed that an entrepreneur and CEO must manage and have on their team to create a rapid growth company and wealth opportunity for themselves, their management team, and investors. Graduating from this program is better than getting an MBA in several ways.  It is quicker, more practical, and includes how-to systems and checklists you will use for your entire career.
The training program covers the following areas of business:

1. Creating Sustainable Competitive Advantage (SCA) and Differentiation
2. The Top 10 Challenges of Scaling a Business
3. The Corporate Vision - The 11 Requirements and Why Visions Work
4. The Five Stages of the Corporate Development Model
5. How to Take this Course for Maximum Benefit - Learning Science
6. Principles, Neuroplasticity, and Best Practices for Adult Learning
7. Eight Psychology Principles that Can Kill Companies that CEOs Must Understand
8. Market Research for 100% Successful Market Entry
9. Competitive Intelligence - What Many Fail to Do at Their Peril
10. Innovation and Disruption to Create Sustainable Competitive Advantage
11. Risk Landscape Mapping - How to Adjust Your Business Model to Eliminate Most Risk
12. Branding - Leveraging 10 Million Years of Evolution & Emotion
13. Designing Your Brand - Full Process & Roadmap and Examples
14. Apple Case Study - The 44-Year Path and Evolution to a $1 Trillion Company
15. Competitive Strategy & Positioning to Differentiate & Dominate Your Niche
16. Market Entry Strategy Versus Go To Market - Your Need Both
17. Business Model Design - Optimizing for Growth & Profit
18. Building Your Management Team - The Skill Set Matrix(TM)
19. Personality Testing And Interviewing to Improve Match, Tenure, and Culture
20. Product and Service Development - Getting 10X Productivity & Innovation for Less Money
21. Intellectual Property - Traps and Tips - Protecting your Business via SCA
     - Trade Secrets, Patents, Trademarks, Copyrights, NDAs, and Legal Issues
This certification will change your business, mindset, and the way you think about business forever. Check out the full program with video testimonials here: www.CEOBootCamp.us.
Thousands of CEOs and Entrepreneurs from over forty companies have graduated and not one ever asked for the 100% refund guaranteed. We promise you can make or save millions over your career knowing this material that most CEOs, even experienced ones, do not know. 
 Testimonials on our programs
If you learn this and apply it, you will become a world-class entrepreneur and CEO more rapidly, reduce your risk and increase your speed to success. This package contains literally hundreds of ideas, and some can save or make you $100,000 - literally.

Learn from many decades of management science and hundreds of business gurus, with wisdom extracted from over 200 top books and three decades of practical experience.  Avoid the big mistakes others have made with a complete road map for designing, launching, and running an entrepreneurial business that can grow and stay profitable.
About Your Instructor, Bob Norton, Serial Entrepreneur and Top Expert in Starting and Growing Companies
As a CEO since 1989 Bob has grown two startups to over $100M in sales within five years and returned over $1 billion in profits to his investors
CEO Coach and Adviser since 2002. Independent Director. Specialist in scaling.
Grew two startups to $100M and $156M in sales in 5 years and 3 years
Founded six companies with four exits totaling over $1 billion in profits to investors. Two others still growing.
Author of four books: The Startup Manual & Leadership, co-written with Warren Bennis, "The Father of Leadership"
Over 125 published articles and 360+ training videos. Creator of The CEO & Entrepreneur Boot Camps
Creator of AirTight Management, world's first modular Management Operating System (MOS)