Complete Dashboard Design, Training and Coaching for a Team - Guaranteed Implementation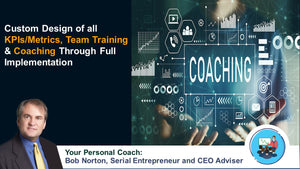 Dashboards are an advanced tool of management to move a person, company or department to Management By Exception (MBE).  This is a more sophisticated and leveraged form of management sometimes called "Running the business by the numbers." This allows scaling and gives managers leverage, and everyone focus and accountability. 
This is a complete remote implementation and training. See below for information on an on-site package. 
Dashboards become an autopilot, as well as a way to look into the future by seeing trends and connections in cause and effect.  Dashboards allow you to systematize and scale your business smoothly.  Key processes and departments are measure by Key Performance Indicators (KPIs). Breaking everything down to a science with known inputs and outputs that create value.  And then manage these processes and people smoothly.  Selecting the right KPIs requires much experience in business and so it is best to hire an expert. 
This complete design, training, and coaching package that is guaranteed to deliver a successful implementation and usually takes four to six weeks.
Every business with more than a handful of employees needs at least one dashboard for the company. Every department with more than five or six employees should also have a department level dashboard of its own.
Dashboards frame success, managing up and down and clear accountability and communications.  Our training and coaching will help everyone involved understand how and why dashboards work. And are good for everyone. 
Dashboards work magic to improve a company, team and department constantly by providing regular feedback and measurement of all key metrics. Dashboard implementation is one of the highest ROIs of any project you can implement to improve performance, morale and corporate value. 
This complete package includes everything needed:
1. Discovery to collect all information needed to design custom dashboards
2. Design of a corporate dashboard and up to three department dashboards
3. Three levels of training for executives, managers, and individual employees
4. Coaching of managers one-on-one to help each understand and implement their dashboard properly into their department workflow.
5. Q & A webinar discussion after each course level is completed
Three courses about one hour each plus Q & A time:
The basic level 101 course is for everyone involved. It helps everyone understand the benefits to the company and themselves. 
The 201 Dashboards course is for all managers and goes deeper.
The level 301 Advanced course is for executives so they can optimize the use of Dashboards and Metrics in their areas of the business and understand cross-departmental issues where needed. 
Dashboards are used to: "Run a Business by the Numbers, Improve it Constantly and Project What Will Happen to be Ahead of the Competition!"
Dashboards separate the professional managers from the amateurs. They give managers leverage in time and also empower employees to communicate goals, and what success is every day, week or month.
Design: 2 weeks
Full Implementation: 8 weeks
______________________________________________________
Full on-site Project Implementation:
On-site: $7,500-$12,000 with typical travel expenses
Includes Corporate + 5 Department dashboard designs
Call (619) SCALE06 for and exact quote
About Your Instructor, Bob Norton, Serial Entrepreneur and Top Expert in Starting and Growing Companies
As a CEO since 1989 Mr.Norton has grown two startups to over $100M in sales within five years and returned over $1 billion in profits to his investors
CEO Coach and Adviser since 2002. Independent Director. Specialist in scaling.
Grew two startups to $100M and $156M in sales in 5 years and 3 years
Founded six companies with four exits totaling over $1 billion in profits to investors. Two others still growing.
Author of four books including: The Startup Manual & Leadership, co-written with Warren Bennis, "The Father of Leadership"
Over 125 published articles and 360+ training videos
Creator of The CEO & Entrepreneur Boot Camps that have run since 2004 and graduated thousands of CEOs and executives from over 40 countries
Creator of AirTight Management, the world's first modular Management Operating System (MOS) to prepare companies to scale smoothly