Building Your Management Team - The Skill Set Matrix (TM) - Available Nowhere Else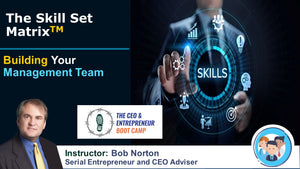 Building Your Management Team 
The Skill Set Matrix™ is a key proprietary tool invented by Bob Norton, our Founder, which will help you objectively determine who is qualified for what position at each level.  It is available nowhere else in the world as a copyrighted work. It breaks down hiring decisions and process into the three most important dimensions objectively. 
Most hiring decisions are clouded by personal feelings and insufficient analysis of the skills needed for success at the job. People often hire who they like, as opposed to who is most qualified. Often there is reliance on previous titles without validation that previous experience is directly relevant to the new company. 
A VP of Marketing at a big company is a vastly different job than a VP of Marketing at a startup. Many times, people are hired from big companies and those people can become fish out of water in smaller companies.  People from larger companies are used to having a staff of specialists and suddenly must roll up their sleeves and do everything themselves - which they have not done in a decade.  And they can even endanger your company's survival. 
One attendee at The CEO boot camp said the Skill Set Matrix™ would have saved him $40 million. Because he hired an unqualified person for a C-Level position who would have been eliminated from the hiring process early on if he had used this tool to screen at interviews. 
Don't let one or two bad hiring decisions destroy your company. Most people, even recruiters, do not even think about these criteria before hiring. And it is easy once you learn The Skill Set Matrix(TM). 
The course covers:
Building Your Management Team – The Skill Set Matrix™ - Agenda and Dimensions
The 3-Dimensions of The Skill Set Matrix™ and the three ways to use it
Depth of Experience, Blink and The Wisdom Pyramid and The Pilot Story
The Pilot Story continued, Hiring Outside Your Own Expertise Areas
Example of Using The Skill Set Matrix™
What about Hiring Outside Help? Virtual people? Contractors? Consultants?
Exceptions to the Usual Process/Rules, Recap of Key Points for Hiring Success and Retention
This tool will help you hire better, plan your team/organization and even help create a clear development plan of employees to improve tenure and morale. 
This course was created by our founder, Bob Norton, who has raised over $40 million in early-stage capital from many sources and categories. And has also returned over a billion dollars in profits to his investors during his career as a CEO and serial entrepreneur. Like all our courses and material from The CEO and Entrepreneur Boot Camp (www.CEOBootCamp.us), it is very practical and how to from someone who has been there and done that. It is not theoretical or academic, but from decades of experience and real-world wisdom gained in the trenches.
You can take this course at any speed and will have access for three months. It will also provide you with many tools and checklists, including the right to download and use this copyrighted tool in your company.
All of our courses come with a limited 100% money-back guarantee. And are jam packed with practical information that can literally make or save you millions of dollars in a few years or even hundreds of millions over your career or building a significant company.
If you decide to upgrade to the full CEO & Entrepreneur Boot Camp, then 50% of past purchases of our courses will be applied on request. 
About Your Instructor, Bob Norton, Serial Entrepreneur and Top Expert in Starting and Growing Companies
As a CEO since 1989 Mr.Norton has grown two startups to over $100M in sales within five years and returned over $1 billion in profits to his investors
CEO Coach and Adviser since 2002. Independent Director. Specialist in scaling.
Grew two startups to $100M and $156M in sales in 5 years and 3 years
Founded six companies with four exits totaling over $1 billion in profits to investors. Two others still growing.
Author of four books including: The Startup Manual & Leadership, co-written with Warren Bennis, "The Father of Leadership"
Over 125 published articles and 360+ training videos
Creator of The CEO & Entrepreneur Boot Camps that have run since 2004 and graduated thousands of CEOs and executives from over 40 countries
Creator of AirTight Management, the world's first modular Management Operating System (MOS) to prepare companies to scale smoothly