1-Month Coaching Program: Solve One Major Strategic Problem Using Any of Over 100 Tools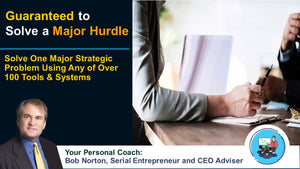 $1,95000

$1,950.00

Save $3,050
---
---
This coaching program includes solving one major problem of your business and how to overcome the challenges using any of over 100 tools from our toolbox. We can also potentially solve a few minor problems instead of one larger one. You set the agenda and Bob Norton will give you clear answers and a plan to solve any problem at the strategy level.
It does not matter if it is strategy, sales, marketing, operations, finance, product development, using technology or management and leadership. Bob has done it all for over three decades and will have an instant answer for you on any topic.
Each week we will meet on Zoom for a 50-minute video call and work "on" your business, not "in" your business to improve it. Some common problems that you might want to discuss include:
Are you ready for outside financing and what do you need to do to be successful?
Do you need to add talent to your team or reorganize?
Are you using key management best practices to have a high-performance team and culture?
 What should be your personal development plan for getting better at what you do. Or for your team?
Review and improve a strategic plan, business plan, new product launch or a target market evaluation to optimize your success.
How can you improve existing operations, efficiency, costs and profits?
Where is the weak spot in your company today and how can you turn it into a strength?
Anything you want . . . .
While in any coaching program you will also get access to relevant videos from our Video Training Library (VLT) where we have now studio produced over 360 videos on best practices in all areas of business. 
You will also get email and text support while in any of our coaching programs. Quick answers that can save your worry, sleep and big mistakes by getting a quick answer by text. 
Start making your business better today by getting a top CEO and Serial Entrepreneur on your team every week to solve your biggest problems. No long-term commitment like most "Certified Coaching programs". Often these require $5,000 to $12,000 upfront. We go month-to-month just prepaying each month as long as you see the value coming. 
There are limited spots and not everyone is a good fit.  A full refund will be done if after the first 30 minutes we do not both agree that we can help you in a BIG way. 
Call (619) SCALE06 9am to 6pm CT, or email info@AirTightMgt.com with any questions. 
About Your Instructor, Bob Norton, Serial Entrepreneur and Top Expert in Starting and Growing Companies
As a CEO since 1989 Mr.Norton has grown two startups to over $100M in sales within five years and returned over $1 billion in profits to his investors
CEO Coach and Adviser since 2002. Independent Director. Specialist in scaling.
Grew two startups to $100M and $156M in sales in 5 years and 3 years
Founded six companies with four exits totaling over $1 billion in profits to investors. Two others still growing.
Author of four books including: The Startup Manual & Leadership, co-written with Warren Bennis, "The Father of Leadership"
Over 125 published articles and 360+ training videos
Creator of The CEO & Entrepreneur Boot Camps that have run since 2004 and graduated thousands of CEOs and executives from over 40 countries
Creator of AirTight Management, the world's first modular Management Operating System (MOS) to prepare companies to scale smoothly