Intellectual Property: Patents, Copyrights, Trademarks & Trade secrets and When to Use Each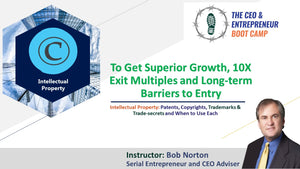 Build barrier to entry around your business that will give you greater market share and profit
Creating proprietary intellectual property it is one of the most important things to build a valuable business. It creates barriers to entry that allow you to charge higher prices and keep customers longer as well as acquire them at a lower cost. Although there are many other ways to protect your business intellectual property is one of the easiest and most important to design into your business on day one. If you wait you will lose most opportunities to protect your intellectual property in the form of patents and trade secrets especially.
This is a comprehensive course on how to use patents, copyrights, trademarks and trade secrets to build a far more valuable company which will generate wealth for all stakeholders and a much higher exit value. It will also help you maintain recurring revenues which can mean the difference between a company sales multiple of 10 or 200.
Also included as free bonuses are template documents for on disclosure, non-compete and other intellectual property protections so when employees leave they cannot share that information with competitors or use it against you and founding their own company.
This course was created by our founder, Bob Norton, who has raised over $40 million in early-stage capital from many different sources and categories. And has also returned over a billion dollars in profits to his investors during his 30-year career as a serial entrepreneur. Like all of our courses and material from The CEO and Entrepreneur Boot Camp (www.CEOBootCamp.us), it is very practical and how to from someone who has been there and done that. It is not theoretical or academic but from decades of experience and real-world wisdom gained in the trenches.
You can take this course at any speed and will have access for a long time. It will also provide you with many tools and checklists including free, bonus legal documents that could save you thousands of dollars in legal fees by starting with these templates.
All of our courses come with a limited 100% money back guarantee. And are our jam packed with practical information that can literally make or save you millions of dollars in a few years or even hundreds of millions over your career or building a significant company.
Don't miss this opportunity to create higher barriers to entry around your business that will generate faster growth and higher profits.
About Your Instructor, Bob Norton, Serial Entrepreneur and Top Expert in Starting and Growing Companies
As a CEO since 1989 Mr.Norton has grown two startups to over $100M in sales within five years and returned over $1 billion in profits to his investors
CEO Coach and Adviser since 2002. Independent Director. Specialist in scaling.
Grew two startups to $100M and $156M in sales in 5 years and 3 years
Founded six companies with four exits totaling over $1 billion in profits to investors. Two others still growing.
Author of four books including: The Startup Manual & Leadership, co-written with Warren Bennis, "The Father of Leadership"
Over 125 published articles and 360+ training videos
Creator of The CEO & Entrepreneur Boot Camps that have run since 2004 and graduated thousands of CEOs and executives from over 40 countries
Creator of AirTight Management, the world's first modular Management Operating System (MOS) to prepare companies to scale smoothly